Traveling as a backpacker and without specific plans is great because you can meet a lot of amazing people. For example, we have met one wonderful family nearby the Hundred Islands National Park in the Philippines.
Friendly huge family
We were sitting in the park, planning another trip and suddenly many people came to us and they started asking - where we are from, what do we do here and lots of other questions. Everyone was very curious! We found out that they are one big family (over 20 people in total). Later on, they started to take pictures of us. Then they wanted to take pictures with us and it all ended up with huge group photos of absolutely everyone. Well - Europeans, we were really a great attraction for them. We felt like celebrities, we were sitting in front of everybody and they asked us many questions. Several teenagers even made an online stream from that.
One 15-year-old boy even wanted to add me as a friend on Facebook. He wanted to chat occasionally with a foreigner to improve his English. Their mum brought us a full bowl of excellent food. Filipinos are just amazing! Their father introduced me to his 19-year-old daughter. He said: "She is beautiful (yes, she really was), clever, educated, but the problem is that she still has no boyfriend" ... If I don't have any friend who would want her ?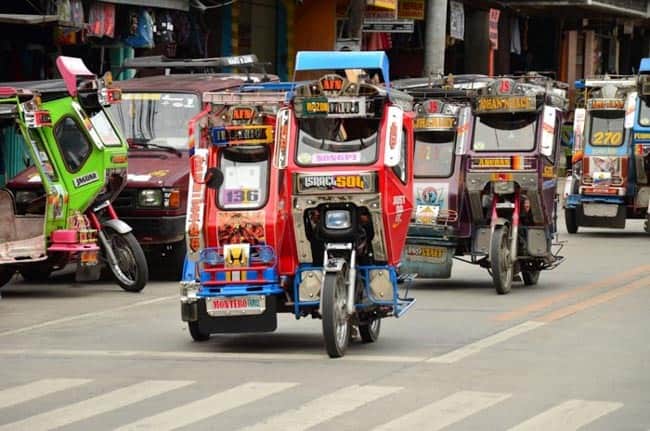 Accommodation
Later in the evening, they brought another meal (we had a problem to eat all of that :D) They asked us where do we plan to sleep? Well, we admit we would like to build a tent nearby and when they found that, they were worried about us, so they offered us to stay at their house. It was hard to tell them no. So, we jumped in their tricycle and went with them to their place.
We stayed alone in a simple room with a double bed. Before we said good night, they warned us: "Don't turn the light off, otherwise there will be a bunch of mosquitos in a while!". Well, we are used to that it works exactly the opposite in the Czech Republic – that mosquitoes are attracted by light. Plus we didn't want to sleep with the light on. But very soon we turned the lights on again because these bloodthirsty beasts obviously love the darkness in the Philippines.
We said goodbye to everybody the next morning and their father took us by tricycle to the port so we were able to catch our boat to sail around the islands. We will always remember this lovely family, which showed us how amazing the Filipinos can be.
You can read an article about Luzon island.
Share this blog post for your friends: