Besides being home to picturesque canals, world-class museums, and stunning architecture, Amsterdam is also well-known for its vibrant nightlife. Whether you wish to experience the buzz of the infamous Red Light District, go on a romantic canal cruise in the evening, or sample local food delicacies at the famous De Foodhallen, there is no shortage of fun things to do in Amsterdam at night. To help you decide where to go, I've put together a list of my favorite places to go out in Amsterdam after the sun goes down.
Thanks to David van Brakel from HelloAmsterdam for ideas on the best things to do in Amsterdam at night.
1) The Red Light District
No visit to Amsterdam is complete without checking out De Wallen where the popular Red Light District is located. With crowded bars and adult-themed shops and quirky museums, this designed district for legalized prostitution is one of the most visited areas in Amsterdam. You should know that taking pictures of the sex workers is strictly forbidden here in the Red Light District. History buffs will be surprised to hear that this is actually one of the oldest parts of the city with several historical buildings including the Gothic-style Oude Kerk church.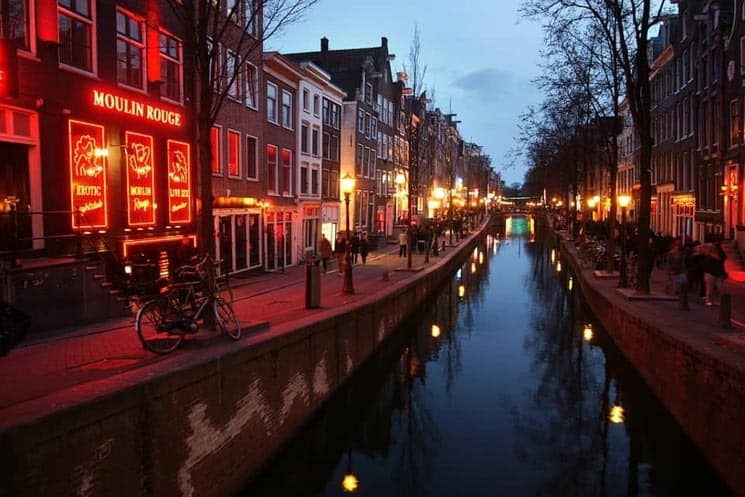 2) Concertgebouw
There are many cool attractions in Amsterdam and the beautiful Concertgebouw is one of them. A concert hall located at the food of the Museumplein, the Concertgebouw is designed in the neoclassical style and is considered as one of the world's best concert halls in the world. It is also home to the Royal Orchestra and hosts a variety of music events ranging from jazz sets and vocalist performances to orchestras. Keep in mind that it is an extremely popular concert hall, which means tickets for concerts have to be booked well in advance.
To save some money, check this Amsterdam on a budget guide.
3) Amsterdam Canal Cruise
Amsterdam canal boat cruise is one of the best ways to experience the city and admire its charming architecture. Although there are many canal tours during daytime ranging from family-friendly boat rides to hop-on-hop-off tours, a night canal cruise allows you to admire the thousands of lights that illuminate the canals a create a unique experience. Whether you are traveling with that special someone or you are visiting Amsterdam with a group of friends, a night canal cruise is simply a must while exploring the Dutch capital at night.
4) FilmHallen
Want to see a movie while visiting Amsterdam? It's one of the most relaxing nighttime activities that you can have in Amsterdam. Head out to FilmHallen, an extraordinary Dutch cinema where you can watch everything from award-wining European movies and Hollywood blockbusters to short and independent movies. All of these movie screenings come with Dutch subtitles.
5) De Foodhallen
After the movie, travelers can visit the nearby Foodhallen which is the best place in the city to get to know the local cuisine and try local food delicacies. From the popular herring sandwich and the signature Dutch bitterballen to the mouthwatering stroopwafels, there is something for everyone. Foodies visiting Amsterdam will be also happy to hear that De Foodhallen is a place where you can purchase a variety of International foods including Vietnamese specialties, American burgers, and Asian delicacies like sushi and dim sum.
6) Vesper
If your idea of having a good time includes sipping on a cocktail in a retro environment, make sure to pay a visit to Vesper. Located in the famous Jordaan district, this unique bar is well-known for its quirky décor and has that speakeasy vibe. Watch out for the cool James Bond memorabilia hanging on the walls. As for the drinks list, Vesper offers a wide range of tasty artisan cocktails that are reasonably priced.
7) Night Clubs in Amsterdam
With hundreds of venues in the city ranging from EDM clubs to live music venues, Amsterdam's nightlife scene is truly amazing. If you wish to dress up to the nines and go out in the evening to dance the night away, you will be most definitely spoilt for choice. A former church turned into a music venue, Paradiso with its two balconies and bit stained glassed windows is one of the hottest clubs in the city. You can also check out Melkweg which is situated inside a former dairy factory. Nowadays, this trendy venue is home to two concert halls, a photography gallery, cinema, theatre, and a café. My personal favorite is the Air Club, one of the newest venues in Amsterdam. It has extraordinary lighting, five bars, and three different areas where you can go dancing to hip-hop, R&B, and techno music.
8) Bimhuis
Last on my list is a paradise for all your jazz music fans out there. Welcome to the Bimhuis, a veteran venue for jazz concerts. Situated inside a building that resembles a sleek black box, Bimhuis hosts both Dutch and international jazz acts and is considered having one of the best acoustics in the country. With over 300 concerts a year and monthly events such as Match and Workshop & Session events, it's the number one club in the city to see an awesome Jazz performance.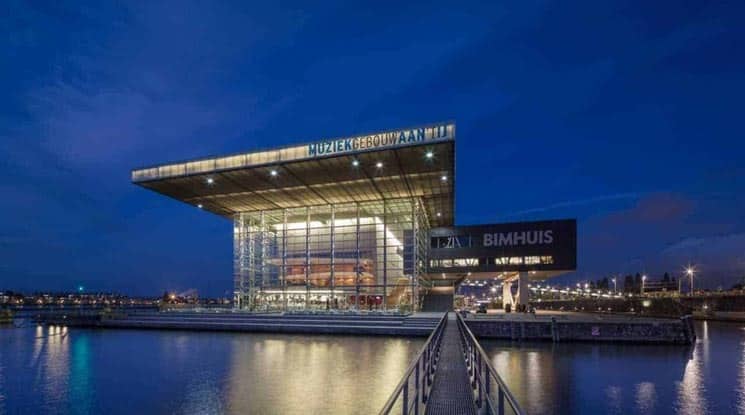 Pin this guide to the best things to do in Amsterdam at night for later or for your friends:
FAQ about best things to do in Amsterdam at night:
Did this post help you? Share it with your friends! It can help them too!