Ireland may be a small island, but it attracts many visitors due to its rich history and picturesque landscapes. In 2018, a record-breaking 11.2 million tourists visited the Republic of Ireland.
The friendly folk, vibrant music, and medieval castles of the Emerald Isle leave no one unimpressed. Home to many bustling towns and charming villages, Ireland is one of the best vacation spots in the world.
We have prepared for you a list of the best places to visit in Ireland:
1) Cork
Cork is the second-largest city in the Republic of Ireland, and one of the most beautiful places to visit in Ireland (the southern part of the country). It may not be the capital, but it's still a highly cosmopolitan European city.
The city's lurid art galleries, cute museums (Cork Butter Museum), eccentric shops, and small cafés emanate cool vibes throughout its historic streets.
Cork is packed with excellent restaurants, but, food-wise, doing a bit of grocery shopping at the English Market is a must. It's one of the oldest covered markets in Europe as it's been in business for more than 220 years.
No vacation in Cork would be complete without a day trip to one of the most beautiful castles in Ireland - Blarney Castle, the home of the legendary Blarney Stone. According to legend, anyone who kisses the stone will be endowed with the gift of gab.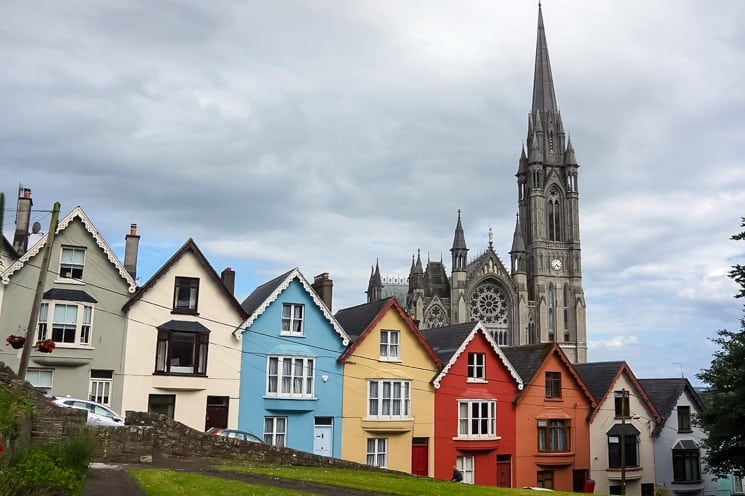 2) Dublin
When compared to other capital cities, Dublin is relatively small. Nevertheless, it is still one of the liveliest places in Europe. What it lacks in size, it makes up for in effervescence.
Unlike most metropolitan cities, it boasts a pleasant intimacy. With its cobblestone streets and laid-back vibe, Dublin is truly a magical place.
No matter where you find yourself in Dublin, the locals will happily chat you up. You can count on them to teach you about Dublin's expansive history.
The city is home to many wonderful museums, including The Little Museum of Dublin, the Kilmainham Gaol, EPIC the Irish Emigration Museum, and the Dublin Writers Museum.
You can find great whiskey distilleries all over town, but, if you prefer brooding ales, the Guinness Storehouse is the place to be. For foodie delights, one should visit the famed Temple Bar Square.
3) Aran Islands
Whether you're here on a day trip from County Clare or staying for the whole week, everyone who visits the Aran Islands is in for a truly Irish experience.
Located off Ireland's Western coastline, the Wild Atlantic Way, these three unique islands are a great place to immerse yourself in life.
Inis Oirr is the smallest island, Inis Mór the largest, and Inis Meáin, located in the middle, is the most rural.
The islands are home to impressive archeological remains and ancient forts. The harsh, jagged cliffs set against the Atlantic make for an impressive sight.
On Inis Mór sits the village of Kilronan. If you're looking to experience the authentic Celtic charm, you'll be happy to learn that the locals speak both English and Irish.
With a few restaurants and a smattering of bed and breakfasts, Kilronan allows you to enjoy the Gaelic lifestyle in a quaint and serene setting.
4) Kinsale
Once a medieval fishing port, now a tiny colorful seaside town, Kinsale bursts with charm. It is famous for its many brightly colored houses. The impressive marina will leave you thinking Kinsale is home to more boats than people.
There are many vibrant festivals taking place in the town all year round. In the center of town, you'll find the Desmond Castle, also known as the French Prison. It's limestone walls date back to the 16th century.
There's also the star-shaped Charles Fort that played an important role many times during Irish history.
Kinsale is the self-proclaimed gourmet capital of Ireland. Chances are, after dining at one of Kinsale's many high-class eateries, you will happily support that claim.
5) Croagh Patrick
Croagh Patrick is considered to be the holiest mountain on the island and one of its most significant archeological sites. It's definitely one of the best places to visit in Ireland.
But what makes this mountain really special is the ancient pathway leading to it. St Patrick's Causeway (Tóchar Phádraig), the path that leads to the hallowed peak of the mountain, is one of the most ancient pilgrimage routes in Ireland.
Though the pilgrimage is named after Ireland's patron saint, the Tóchar Phadraig pre-dates Irish Christianity. With its timeless landscape, it may indeed be the most atmospheric age-old path of Ireland.
Starting at Ballintubber Abbey, the causeway stretches across 19 miles of footpath. Along the route, you will come across sacred druidic sites, medieval churches, ancient graves, holy wells, and the miraculous rock of Boheh.
Along St Patrick's causeway, you are sure to come across many friendly pilgrims from all over the globe. And, unlike with most world-famous pilgrim paths, you'll see many locals undertaking the pilgrimage as well.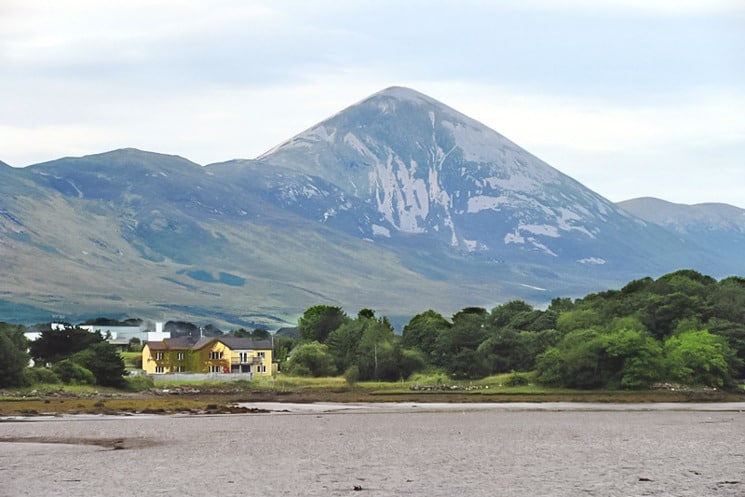 6) Galway City
Galway offers an eclectic mix of the old and the contemporary. Its artsy vibe is like no other. Walking along the streets of the city, you are likely to come across many dancers and street performers.
If you hear faint, but enchanting melodies coming from a distance, you're not imagining it, it's the sound of Irish bagpipes.
With unique shops teeming with life and ruinous medieval walls strewn around town, Galway City is anything but dull.
The city's promenade will lead you to a cluster of cute and colorful houses that are lined along the Galway Bay.
Galway also offers a few great day trip opportunities. If you are up for an adventure, the Connemara National park is just 40 miles away. Filled with grasslands, forests, bogs, and mountains, this green wonderland will keep you busy for hours.
7) Killarney
On the southwest corner of the island lies the serene town of Killarney. Graced with mountains, waterfalls, and lakes, Killarney is one of the best places to visit in Ireland for those who prefer a peaceful vacation.
Make sure to bring a pair of comfortable sneakers, as there are miles of gorgeous trails to explore.
You won't have any trouble finding cozy accommodation that is exactly to your liking as Killarney has the most hotel rooms per capita in Ireland, excluding Dublin. The locals sure do know how to welcome and accommodate visitors, no matter their numbers.
The town is a great jump-off point for exploring the Killarney National Park, touring the amazing Ring of Kerry, and hiking the Gap of Dunloe. There are also many great fishing spots in the area.
8) Sligo
This picturesque coastal seaport is a popular rest stop and one of the best places to visit in Ireland for adventurers. It is comfortably nestled between Galway and Donegal, near the border with Northern Ireland, in a magical spot where the sea meets the land.
Sligo is an oasis of sandy dunes, salty ocean spray, and mountain peaks. Artists are sure to find inspiration in this magical town. It is often associated with W.B. Yeats, Ireland's famed poet.
Since many local places appear in the poet's works, the town is often called "Yeats Country." One such place is the 13th-century gothic monastery known as the Sligo Abbey.
Even though centuries of trials and tribulations have left their mark on the building, it still boasts beautiful Renaissance and Gothic elements.
About 15 minutes from the town sits Benbulben, a mesmerizing limestone mountain. Shaped by Ice Age glaciers cutting through the land, it boasts a unique form.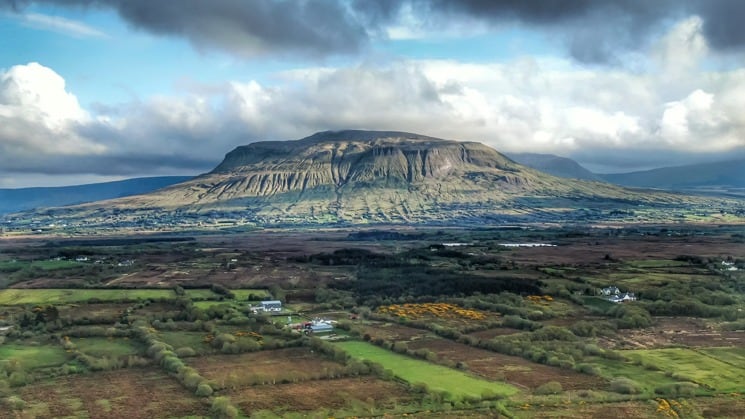 9) Kilkenny
On the banks of the River Nore, lies the "Marble City." Kilkenny, the old capital of Ireland, is located about an hour and a half from the present-day capital—Dublin.
It's a delightful and picturesque town with beautiful medieval relics. Kilkenny boasts a wide array of quaint cafés and inviting restaurants. And, for those seeking a bit of retail therapy, there are plenty of nice shops as well.
The Medieval Mile is one of the most popular attractions in Kilkenny. It is a scenic trail that links many of the city's historic landmarks, including the Rose Garden, Kilkenny Castle, and Saint Mary's Cathedral.
You can wander through Norman alleyways and lose yourself in the maze of secret passageways.
The National Design & Craft Gallery in Kilkenny is the country's foremost center for contemporary design and craft. It features works of renowned artisans, artists, and designers across a variety of disciplines.
Just five minutes from the city's imposing cathedral, you'll find the Rothe House and Garden. The establishment dates back to the 16th century. The quaint walled garden, along with the library and the museum, is extremely popular with visitors.
10) Westport
Westport is a charming city in County Mayo. Adventurers and pilgrims to Croagh Patrick often use it as their base.
But the city itself is also a great place for adventure with its scenic fields, winding trails, and beautiful golf courses. Surrounded by a pristine beachfront and rugged countryside, it's a paradise for nature lovers.
If you are up for a quiet horseback ride along the sand, you can head down to Oyster Beach. You can also go sailing or set out on a fishing trip. For the little ones, there's the super fun Pirate Adventure Park.
The Pier at Old Head, just outside town, is a great place to enjoy a cool dip. For more serious water sports enthusiasts, there is Achill Island, located 50 miles from Westport. Because of its dramatic cliffs and unspoiled beaches, it is popular with cliff divers.
Places to visit in Ireland - Author's Bio:
Article about the best places to visit in Ireland was written by Rebecca, a translator and avid traveller, a book worm and horror flick enthusiast. My job has given me the amazing opportunity to travel to dozens of countries around the world, and writing on Rough Draft gives me a chance to try to showcase some of them.
Pin places to visit in Ireland for later or for your friends:
Did this post about places to visit in Ireland help you? Share it with your friends! It can help them too!