Why did I choose South Korea for a study exchange? One of the main reasons was to get to know a different Asian culture. I expected it to be different, and yes, it is! There are a lot of things that are very different from Europe. For example, many habits, which are absolutely normal for locals, could be very surprising for someone who has never been to Asia. Here are some things that were the most interesting to me:
Slim, small and young
Everyone in South Korea is slim – it is very rare to see someone obese. And I don't mean really obese, even just little overweighted is rare. Koreans also look much younger than they are. It is a real problem to guess the right age. Sometimes it's even hard to distinguish a mother from a daughter. Forty-two look like twenty-five and twenty-five like fifteen :D. In addition, age is not counted from the birth, but from the conception, so everyone is a year younger than he or she is saying.
The average height is also a lot lower than in Europe or USA. All the tables in restaurants are small – e.g. I never fit legs underneath. There are also small stairs and narrow corridors. Really narrow! Many Europeans and especially some Americans would have a real problem fitting there.
Two fires, but the first girl and you are fired!
Dorms and hostels in South Korea are strictly gender-separated! There is a strict ban on any visits too. If someone is caught with a girl in his room, he is fired from the school immediately! Because of this, there are so-called motels, which are actually hourly hotels. The funniest thing is that almost every room has double bed and two computers. An ideal date – playing computer games ?
The official rule is: a student has to start two fires inside the dorm to be fired, but just one girl in the room is enough!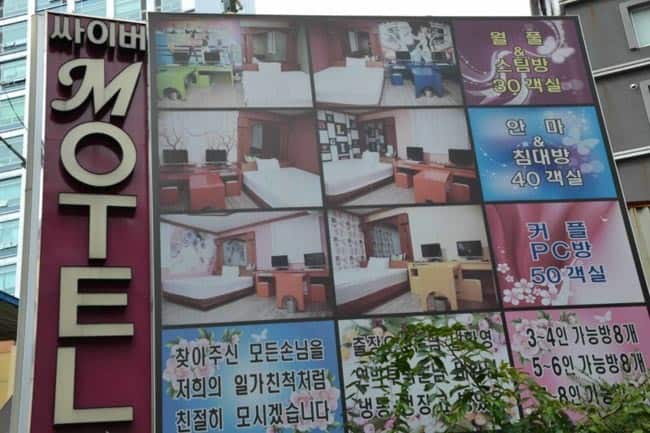 Food in South Korea
Koreans aren't used to cooking at home at all. They either go to restaurants or just heat their noodles in the microwave. Besides that, there is a microwave and a table in almost every little store, so many people just eat right there. There is no kitchen or fridge at the University dorms too.
Almost all meals in South Korea are spicy. I like spicy food, but sometimes it is too much for me. It's not easy to find some not spicy food.
Eating seafood is an amazing experience on its own – it's really great! They brought us shrimps and shells - still alive and moving - on the pan in one restaurant.
An interesting school system in South Korea
In the Czech Republic is mandatory to get at least 50 % of the total number of points to pass the course. It works quite differently in South Korea – there is a percentile system. Grades aren't given by the exact points, but by comparison with other students. So sometimes the student can get grade A even for less than 50 % and sometimes D for 90 %.
It has its advantages and disadvantages. If a student cares about marks, he/she may be unlucky and have other great students in the class and get a worse mark for a good job. On the other hand), if a student doesn't care about the mark much, he/she will pass even with just 10 %.
However, the grades are very important for Koreans (much more important than for us). That's why the system works in South Korea. It would be hard to imagine to work in the Czech Republic, many students wouldn't be motivated enough to work hard.
Dangerous Transportation
Pedestrians don't have a preference for crossing streets in South Korea, it's not easy to get used to that, and it can be dangerous.
City bus drivers are driving very crazy. I almost fell twice during my first bus journey.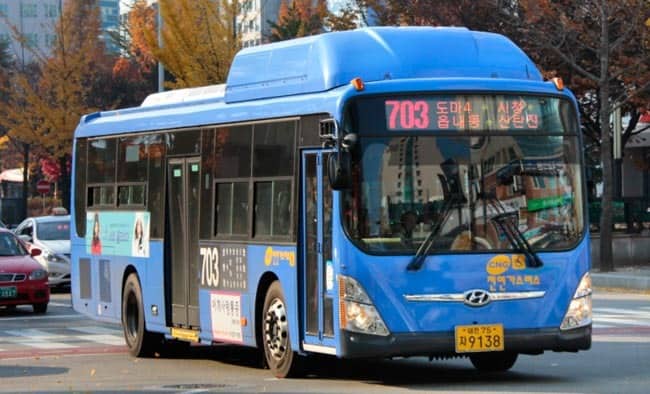 Interesting technical gadgets
Some technical inventions are really great - like a heated self-flushing toilet. Wi-Fi signal is almost everywhere. Even in a small temple, deep in the forest. Radio plays from public lamps or people wearing mini-fans that connect via USB to your mobile ?
13 other interesting findings about South Korea:
Koreans admire foreigners - they bow down, they want to take pictures of us or with us, help us or even give us food.
Almost no one speaks English outside of the university campus, and everything is written in Korean alphabet, so the communication is often just in the form of hand signals.
There is a lot of greenery everywhere, and it is cared for - cut and trimmed regularly.
There are almost no souvenir shops in South Korea. I wanted to buy a postcard from the town where we went for a trip and I didn't find any souvenir shop in the whole town.
There are almost no trash cans anywhere. You have to carry garbage everywhere with you.
There aren't many escalators in South Korea, they rather use many long staircases. Even very long from the subway. Maybe this is one of the reasons, why Koreans aren't obese.
Not a small percentage of people walk around with a mask over the mouth. An epidemic? No, it's because of the smog and so-called yellow sand from China. Smog is quite often visible even with bare eyes. Sometimes it is fairly bright, sunny, no clouds. But you can barely see the sun! Just because of the smog fog.
And more:
The intercity buses are extremely comfortable. Such a large bus have 40 seats in the Czech Republic as opposed to approximately 20 in Korean bus. It seems like an airplane business class.
There are so many overhead electricity wires everywhere. It is highly regulated in Europe but not in South Korea. The whole city is one large web.
Koreans are karaoke lovers. Karaoke bars are everywhere and I mean absolutely everywhere.
State employees earn above-average wages. For example, being a teacher is much better paid and appreciated than in the Czech Republic.
There are outdoor fitness machines everywhere.
Koreans keen on safety a lot. Signs of prohibitions (often redundant) and security cameras (CCTVs) are all over the place, and so many people still violate the rules.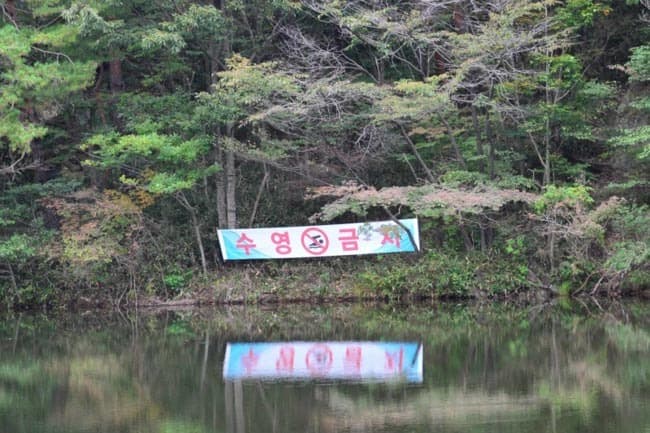 Highly recommended!
I can only recommend South Korea to everyone. Especially for those who haven't been to Asia yet. It's a unique experience to get to know Korean culture. It is a little bit different from other Asian countries.
Do you need some advice or do you have any questions? Don't hesitate to ask! Check also this South Korea road trip itinerary by car to plan your trip.
Have you visited South Korea and have some interesting experiences? Share it with us in the comments!
Would you like to do some hiking in Korea? How about Bukhansan National Park!
Share this blog post for your friends: