Cambodia is almost like the hidden gem of Southeast Asia. It gets a little lost between big-name countries like Thailand and Vietnam. Sure, everyone pops through to see Angkor Wat during their South-East Asia travels, but how many people explore more than that? Not many that's for sure. Cambodia has so much more to offer than just the temples of Angkor. Explore more of what Cambodia has to offer with these 7 best places to visit in Cambodia!
There are beautiful islands with white sandy beaches. There are floating villages, cultural tours, and markets. There's waterfalls, adventure activities and lots of history. There's so much to see that you really shouldn't just spend a couple of days at Angkor Wat. Ideally, 2 weeks is the perfect amount of time to see a little bit of everything that Cambodia has to offer.
Best places to visit in Cambodia:
1) Angkor Wat
Angkor Wat is the shining star and heart of Cambodia. It's everywhere. On every souvenir, you'll see the famous temples. It's probably most of the reason why you even want to go to Cambodia. You won't be disappointed with Angkor Wat. It is truly an incredible place. The temples sit over a huge 4002 kilometers and contain the remains of what was once the Khmer Empire, between the 9th and 15th centuries.
You'll want to be up and at it early to see the sunrise over Angkor Wat temple, which is absolutely beautiful. You'll also want to explore the Bayon temple (the smiling Buddha temple), Bauphon temple. And of course, the famous tomb raider temple, also known as Ta Prohm. The incredible detail and size of the temples will leave you in awe.
You'll need to make sure to cover your shoulders and knees to enter some of the temples. It can also get extremely hot and humid, so make sure to take lots of water and sunscreen.
The temples are close to Siem Reap, which is the best place to stay for easy access to the temples. You should allow between 1 and 3 days to see all of Angkor Wat. Depending on how much of a temple lover you are. One day is plenty of time to see all of the main, popular temples. An extra day will allow you to get off the beaten track a little bit more. Personally, I found that one day was plenty of time for me to see everything I wanted to at Angkor Wat.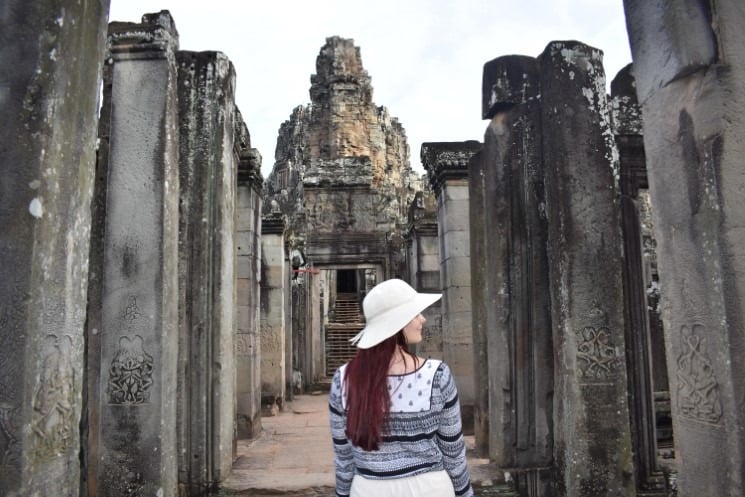 2) Siem Reap
A lot of people just stay in Siem Reap long enough to head to Angkor Wat. They don't realize is that Siem Reap itself has so much to offer. From the floating villages and sunsets on Tonle Sap Lake, the Night Markets and the nightlife of Pub Street, it's not hard to fall in love with the vibe of Siem Reap. Even better, Angkor Wat is just a 20-minute drive from Siem Reap, so you can base yourself here for all of your temple adventures.
Siem Reap is the heart of Cambodia. The people are bubbly and friendly, the drinks are cheap (hello 0.50c beer and $2 cocktails!), and there is so much culture! One of the best things about Siem Reap is that it is so cheap. You can get luxury accommodation for a quarter of the price of anywhere else. And enjoy a good meal with lots of cocktails for a ridiculously cheap price.
What to do in Siem Reap?
So, what can you actually do in Siem Reap? The opportunities are endless. Do a cooking class in a local's home, or take a village tour to visit the kids in a local school. Shop at the night markets to score a bargain before handing out in Pub Street where the prices are cheap and the vibe is good. Head out on to Tonle Sap Lake to see the floating villages and one of the most beautiful sunsets you will ever experience.
Check out the Cambodian Circus, an acrobatic show that raises funds for the education of young locals. Even better, you can just wander. Wander along the river, see the royal palace, look out for monkeys and pick out cafes to stop at on the way. It's always hustle and bustle in Siem Reap, so there's always something to see. If you don't feel like walking, just hop in one of the many tuk-tuks and get anywhere in town for a couple of dollars.
I recommend staying at least a few days in Siem Reap because you won't want to leave once you get there! If you have the time, 5 days in Siem Reap is the perfect amount of time to see everything, including Angkor Wat).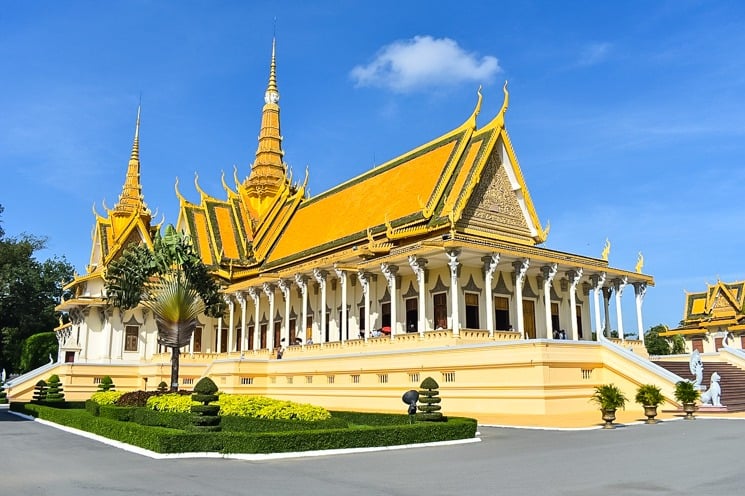 3) Kampot
Situated in the southern part of Cambodia, Kampot is a nature lovers dream. There are adventure activities, hiking, temples, and waterfalls. It's a little laid back town with cute coffee shops, amazing views, and good vibes. The Kampot river is one of the major attractions and features stunning mountain backdrop views. Staying near the river will mean waking up every day is a treat. You can rent paddleboards and kayaks to explore the river, or you can take river cruises.
Another one of the things to do in Kampot is to venture out of the town to visit the Salt Fields. Saltwater is brought from out of town and prepared in the clay fields, where it will then evaporate into salt crystals. There's also plenty of hiking and rock climbing in the area, and it's the perfect place to relax and unwind. Sit by the river and read a book. Or explore the local area by café hopping between the adorable coffee shops.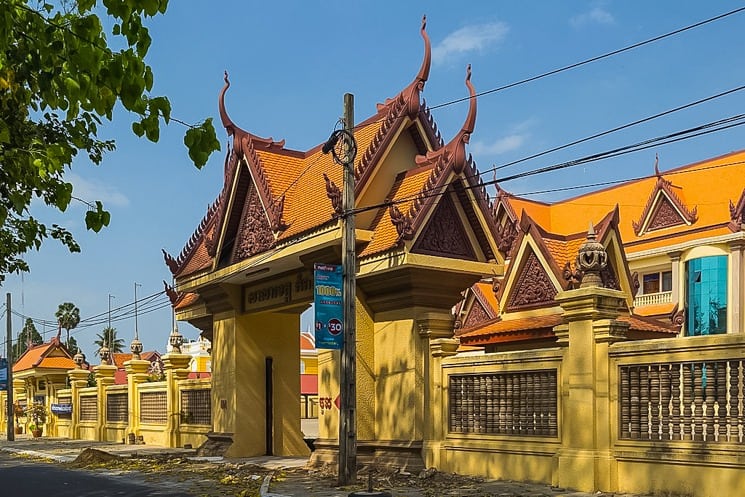 4) Phnom Penh
Phnom Penh is the capital of Cambodia, and it's important to understand its very dark history before visiting. In 1975, Phnom Penh and the rest of Cambodia was taken over by the Khmer Rouge lead by the notorious leader Pol Pot. The vicious military group targeted anyone deemed as an intellectual – that included doctors, lawyers, and teachers, to name a few. They wanted to remove anyone who might be smart enough to revolt, and so anyone deemed intellectual was murdered. Families were split up and put into labor camps. The Khmer Rouge was only in power for 4 years, but in that time over 2 million people were killed.
What to do in Phnom Penh?
Although only 40 years ago, Phnom Penh has rebuilt itself from the ashes. And is today filled with kind-hearted people and a welcoming vibe. It's safe and beautiful. You can see bits and pieces of the horrible time, including memorials and museums, but also experience the beauty that the locals have rebuilt since the tragedy. One of the most important things to see in Phnom Penh is the Killing Fields. It's a hard experience but necessary to understand and absorb what happened 40 years ago. You can also visit the S21 prison, which was once used to hold and torture prisoners. It's a museum that remembers its victims nowadays.
There's plenty more to do in Phnom Penh too. Shop for souvenirs and gifts at the Russian market, and sample local food at the night markets. You can visit the National Museum, which is a beautiful cultural experience, or shop some more at the Dome Central Market. Visit the beautiful Royal Palace and the Buddhist Silver Pagoda. It's also worth walking the Sisowath Quay Boardwalk and visiting Wat Phnom.
Phnom Penh is also home to countless restaurants, bars, and nightlife spots, all of which are reasonably priced. With its history and beautiful sights, you will learn so much during your time in Cambodia's capital.
5) Koh Rong Samloem
Koh Rong Samloem is a little slice of paradise in Cambodia and definitely one of the best places to visit in Cambodia. Nestled off the coast of Sihanoukville, the island of Koh Rong Samloem is a beautiful paradise. It's chilled out and relaxed. If you are looking for parties and nightlife, head to the neighboring island of Koh Rong instead. Saracen Bay is the perfect place to stay on Koh Rong Samloem, a long strip of white beach, with lovely bungalows, resorts and restaurants lining the beach. There is also Lazy Beach (which only offers one accommodation option), sunset beach and M'Pai Bay, which has a local village feel.
Koh Rong Samloem features white sandy beaches, beautiful bungalows, and serenity. It's the perfect place to just relax with a book in the sun before drinking cocktails by the pool. With that being said, there's still plenty to do if you are up for it. Go kayaking or stand-up paddleboarding, snorkeling, hike to the lighthouse or walk to the other side of the island.
To get to Koh Rong Samloem, you need to get a ferry from Sihanoukville. There are several ferry companies who run services several times a day, but its recommended to book tickets in advance, especially during peak season.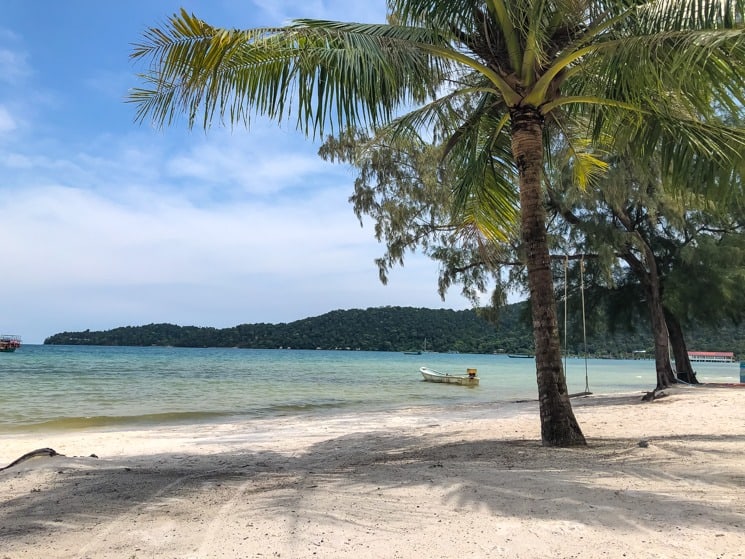 6) Phnom Kulen National Park
Phnom Kulen National Park is located in the Siem Reap Province, only 40km away from the city. You can opt for a day trip from Siem Reap or stay closer to the National Park. A two-hour trip from Siem Reap, you can easily hire a driver for the day to take you to the Park, or book on a group tour if you prefer. The National park is home to the Kulen Mountain, which is the most sacred mountain in Cambodia and is believed to be the birthplace of the Khmer Empire.
At the National park, you can visit the beautiful waterfalls, which are a must-see. A short climb up to the waterfalls, you can also cool off in the pools below, and opt for a picnic lunch. The River of a Thousand Lingas is another beautiful sight in the national park, with beautiful carvings in the sandstone of the river which are visible when the water levels are low.
You can also visit the Reclining Buddha which is located at the top of the mountain, which is made entirely of sandstone and one of the biggest Buddha statues in Cambodia. The Pagoda is a place that locals go to offer peace offerings, and the views from the top are also beautiful. If you are up for even more adventure, you can do a Jeep tour to venture further into the jungles and find some of the hidden temples such as the Srah Damrei.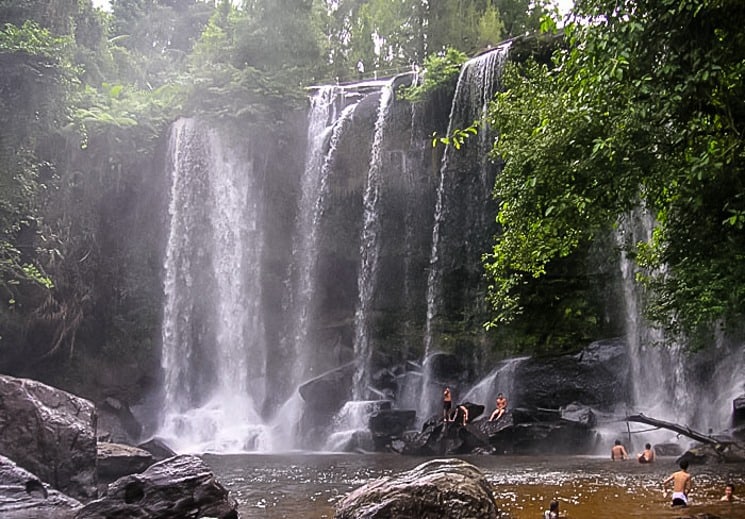 7) Kep
Kep is a small town located just 30minutes from Kampot and is the perfect place to stay for a couple of days to unwind. Kampot is not always listed as one of the best places to visit in Cambodia. There's plenty to do in this little isolated area, which is truly off the beaten path. It's the perfect spot for the slow traveler, the adventurous traveler and the traveler who likes to see beyond the major tourist attractions.
One of the most popular activities from Kep is to take a trip to Rabbit Island, which is a short ferry ride from the mainland. This quiet little island is the perfect getaway, grab a hammock, a beer, and some fresh food and settle in for the day. You should also head to the local markets to try some of the famous crab dishes, the local food which Kep is known for. For more adventure, you can head out hiking in the local parks, or opt to relax on the beach in this rural area for an experience like no other.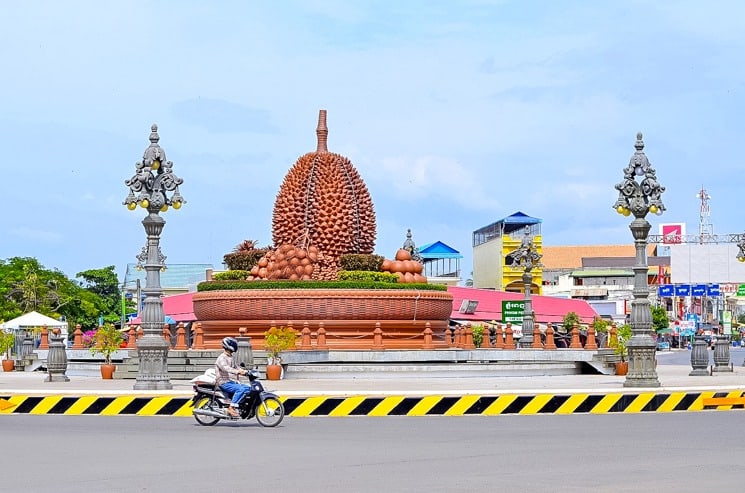 Cambodia Travel Tips
Best time to visit Cambodia
The best time to visit Cambodia is between November and April when it sees very little rain. Temperatures are pretty stable throughout the year. Check these graphs of monthly weather in Cambodia:
Money Matters
The local currency in Cambodia is the Riel, although in most places US dollars are accepted and actually preferred. Ensure you have cash, as some places do not take a card. ATM's are readily available.
Tipping is generally expected in Cambodia, and a little goes a long way. If you had a good experience or service, a dollar or two will do wonders for a local.
Visas
Check your local embassy for Visa requirements before you go. In most cases, you can organize a visa before you go (this will save you time on arrival), or get one on arrival at the airport.
Cambodia is a beautiful country that has so much to be discovered. Be amazed at Angkor Wat before getting off the beaten path in places like Kep and Kampot, before relaxing on the beautiful island of Koh Rong Samloem, and prepare to fall in love with everything about Cambodia!
Author of best places to visit in Cambodia Bio:
Emma is a travel blogger over at Emma Adventures. She blogs about all things adventure and travel, sharing first-hand experiences and tips as a solo female traveler.
Pin the best places to visit in Cambodia for later:
Did this post about the best places to visit in Cambodia help you? Share it with your friends! It can help them too!